Congratulations to Ms Laura STEFAN the new RAI Chairperson!
The 30th Steering Group Meeting of the Regional Anti-corruption Initiative (RAI) took place in Skopje, North Macedonia on September 24-25th, 2019. The meeting was organized by the RAI Secretariat and chaired by the Head of Secretariat.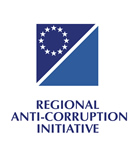 Focus of the Steering Group Meeting was the election of the new Chairperson, as well as discussion and adoption of amendments to RAI Secretariat's internal documents.
We are pleased to announce that Ms. Laura Stefan has been unanimously elected by the Steering Group Members and has accepted the offered Mandate.
We are also pleased to announce that RAI Secretariat will have modernized, more transparent and genuinely better internal rules and procedures that will take the organization into the next decade.
More information will be available in the coming weeks.
RAI Secretariat
26 September 2019